Contents strategy
Thinking and acting sustainably have always been integral elements of Oberbank's value-based strategy. As an independent regional bank, we are deeply rooted in our markets and support local communities and businesses.
Our values form the central basis for our strategy. This has allowed us to maintain our independence for more than 150 years. Because this is the only way to ensure that Oberbank, in its actions, can strike a balance between the interests of customers, employees and shareholders – now and in the future. All other strategic goals pursued by Oberbank are aligned with this principle. It serves as the foundation for our unusually successful development in now five countries – Austria, Germany, the Czech Republic, Slovakia and Hungary.
A modern sustainability strategy with clear goals and successful sustainability management are of great importance for the further development and future success of Oberbank. The sustainability strategy is therefore a fixed component of Oberbank's overall banking strategy.
Guidelines
Oberbank not only follows existing guidelines, but also sets its own high standards for compliance with ethical principles. These are set out, among other things, in our Code of Conduct for all employees. Exclusion and positive criteria for our financing operations are also a key aspect.
Strategic sustainability goals for 2025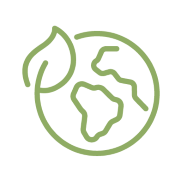 In governance
We are committed to the Paris Climate Agreement's 1.5 degree goal.
We pursue a clear sustainability strategy. It is part of our overall banking strategy.
We actively participate in ESG initiatives and establish new partnerships, thereby reaffirming our high compliance standards regarding ethical principles.
We cultivate a regular exchange with our stakeholders.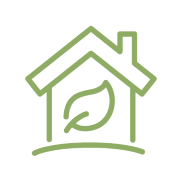 In finance and in lending policy
By 2025, we will have provided sustainable private financing (energy-efficient housing) in the amount of at least 1.5 billion euros. This corresponds to more than 50 percent of newly granted housing loans.
We identify and assess ESG risks in our loan portfolio and implement appropriate decarbonisation measures through the application of limits, exclusion and positive criteria, etc.
Impact reporting: We measure and report annually on the impact (CO2 reduction) achieved through our sustainable financing.
By 2025, more than 50 percent of all new Oberbank issues will comply with ESG criteria.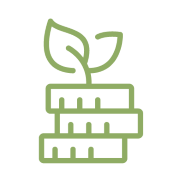 In asset management
We are increasing the volume of the sustainable 3BG mutual funds to more than EUR 1 billion by 2025.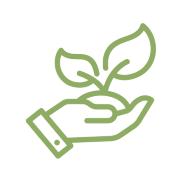 For society
We are committed to the principle of regionalism: 95 percent of our sponsorship and donation budget goes to projects in our markets. In procurement, we work primarily with partners from our regions.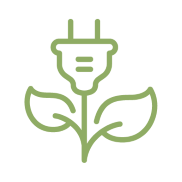 For the environment
We will be climate neutral (in Scope 1 & Scope 2) by 2025 and contribute to limiting the temperature increase to 1.5 degrees.
The carbon footprint per employee will be less than 1 tonne by 2025.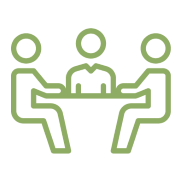 For our customers
We have an excellent customer experience management: high customer satisfaction rate of more than 60 points (NPS).
We support our clients in the digital transformation of banking services. The degree of digitalisation is greater than 80 percent.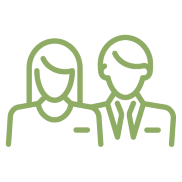 For our employees
Next generation: We offer young potentials the opportunity to advance their development. We fill 80 percent of management positions from our own ranks.
Gender balance: 30 percent female executives in 2025, 40 percent female executives in 2030.