Oberbank can only be economically successful if it also assumes its social responsibility. That is why we are taking appropriate measures to promote a positive development in society and thus to further secure the sustainability of our business model. In doing so, we focus primarily on activities in our regions.
Our measures in the area of society contribute to achieving the following Sustainable Development Goals:




By sponsoring charities, contributing to financial education, training new employees and promoting equal opportunities, among other things, we make important contributions to the aforementioned goals.
Financial literacy
As a financial services provider, Oberbank is particularly committed to contributing to increasing financial literacy in society. Raising awareness in a sustainable way can only be successful if education starts at a young age.

Oberbank strengthens financial competences and knowledge of sustainable investment opportunities through:
Lectures and workshops in schools and universities (e.g., at universities in cooperation with Univ.-Prof.in Dr.in Eva Wagner from the Johannes Kepler University Linz as part of the master's programme Finance & Accounting)
academic theses and university projects in the field of sustainability (close cooperation with Johannes Kepler University Linz)
Furthermore, with the online wealth magazine called #jetztvermögen, a monthly market commentary is published, that helps customers assess the market situation and thus promotes financial literacy
The online magazine is only available in German, please find it here
Donations and sponsorships
As a successful financial enterprise, Oberbank is aware of its social responsibility towards society and exercises this responsibility, among other things, in the form of targeted donations& sponsorships.
Donations& Sponsorship should not be an end in itself, but rather require a targeted selection of sponsoring partners and a strategic approach. Oberbank's primary objective is to contribute to social and economic stability through donations& sponsoring.

To name a few of our sponsorships:
Sports: Oberbank Linz Danube Marathon, ULC Linz, the women's football team of TSV Ottensheim
In the cultural field, in addition to events, for example, St. Florian Boys' Choir, the Operetta Festival, the Anton Bruckner Private University and the Linz School of Music.
To name a few of our donations:
In the social sector, for example, Volkshilfe, volunteer fire brigades, Caritas and Kinderkrebshilfe (children's cancer charity) (children's cancer charity). Further support goes to public institutions such as educational establishments and hospitals.
For further details on our ongoing sponsorships and donations
Sponsorship guidelines: Our values, regionalism and anti-discrimination as key elements
All of Oberbank's sponsoring and charitable donation activities are based on the following strategic guiding principles:
In keeping with the strategy and the values of the Bank
Relevant contribution to Oberbank and society
No activities that could adversely affect the well-being of society or negatively affect a large proportion of stakeholders
With an established benefit, aim to carry out sponsorships in the long term
Openness and curiosity, including for innovative, small projects
Credo "in the region, for the region": focus on regional projects
No discrimination: Neither political affiliation nor gender, denomination or origin of the applicants may influence their selection.
Every major sponsorship of Oberbank is based on a contract that specifies all services to be rendered by the sponsor and the recipient of the sponsorship. The sponsorship recipients usually provide corresponding documentation of the activities carried out (pictures, press articles, etc.).
For more information on exactly which activities are sponsored by Oberbank, please follow this link
Sustainability Award FERONIA
In 2023, Oberbank joined forces with OÖ Nachrichten and the State of Upper Austria to issue the FERONIA Sustainability Award for the first time. This award was presented to sustainable and climate-conscious companies, initiatives and associations based in Upper Austria. The winners were selected by a panel of mostly independent judges and representatives of the sponsoring organisations with broad expertise in sustainability, ranging from environmental and social issues to arts and culture.

Further information on the application process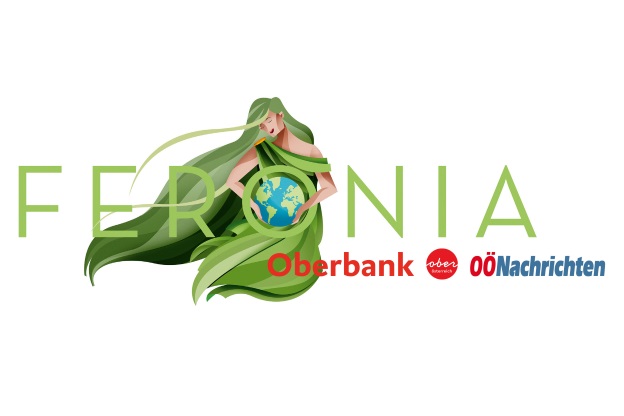 Partnership with impactory– platform for social commitment
impactory is a platform for social engagement that supports companies in making their social engagement interactive and measuring their impact. impactory connects committed companies and charitable projects via a donation platform. In order to be able to actively involve employees, customers and business partners in our social commitment and to generate more awareness for charitable projects, Oberbank has entered into a partnership with impactory.
As a joint project, the unavoidable CO2 emissions generated in the course of the FERONIA Gala 2023 for the presentation of the first Upper Austrian Sustainability Award were calculated together with impactory. To compensate, Oberbank supports the climate project Wilderness Dürrenstein-Lassingtal.


Oberbank has always endeavoured to acquire works of art – especially paintings – and to display them in the branches as well as at the head office. The Oberbank Art Advisory Board was established to ensure professional management, from the selection and purchase of the works of art to their exhibition. Formally, the Art Advisory Board acts in accordance with the provisions of its Advisory Board Rules.
The Oberbank Collection at a glance
The Oberbank Collection currently comprises more than 8,200 works by national and international artists, some of which are also compilations of works by historical artistic figures, such as Egon Hofmann. Only the most valuable and significant works are assigned to the "art collection" category. Particularly high-quality acquisitions were made in 2017 for the new bank building, including works by Helmut Bruch, Angela Bulloch, Oliver Dorfer, Brigitte Kowanz, Julian Opie, Lois Renner, Günther Selichar and Esther Stocker.​​
The most important cornerstones of Oberbank's strategy in expanding and maintaining its art collection are:
Regionalism
Oberbank sees its branches as an essential projection surface for its art collection. The intention is to exhibit mainly works by artists from the respective region.
Young art
Our collection focuses on the acquisition of young Austrian contemporary art of appropriate quality and with the corresponding potential to increase in value. Based on the same criteria, the circle of artists to be included in the collection is to be extended to the regions in which Oberbank is active.
Gender neutrality
In accordance with the principles of equal opportunity applicable at Oberbank, which are also published in the Code of Conduct, the collection must pay particular attention to gender neutrality.
Quality
Reconciling the quality standards of the collection with the available budget is a major challenge for Hon.-Prof. Mag. Dr. Martin Hochleitner, Director of the Salzburg Museum, who serves on the Art Advisory Board in a consulting function.
Purchasing decisions are made in the advisory board meetings with the advice and support of the representative Dr. Martin Hochleitner, Director of the Salzburg Museum. The advisory board is also accompanied and advised by this expert when it comes to local purchases. The collection includes works by Maria Moser, Anselm Glück, Lena Göbel and Christian Ludwig Attersee, to name but a few.
An example from the Oberbank art collection: "Edition 28"
In 2021, a new series of prints with special references to Linz was launched with "Edition 28". The name of the series refers to the starting point, Obere Donaulände 28, e.g., the address of the Oberbank headquarters. The first issue was designed by Oliver Dorfer and shows his personal picture of Linz. Subsequently, other artists will creatively present their associations with the city.